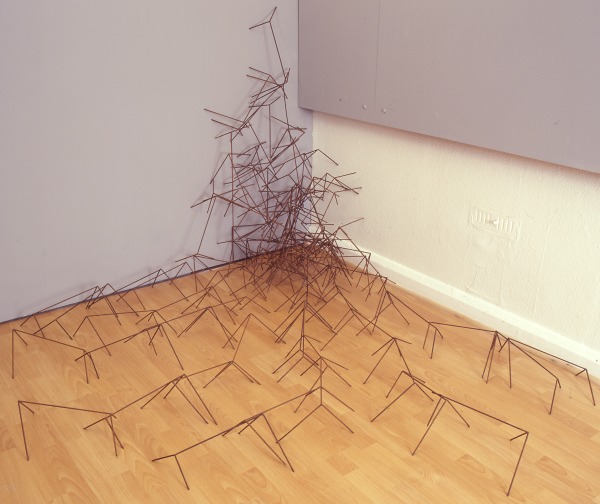 7 November 2002 - 3 December 2002
The works in this exhibition are an encounter between two perspectives on the contemporary city. The city as an image to be viewed, as design, map or plan, and the city as a site, a delimited piece of land, defined by a particular geography with reference to which buildings are implanted, and complex architectures elaborated. The architecture of the city should ideally lie where site and image meet at the level of human necessity. But in the contemporary Latin American city it is rarely so.
In the building of makeshift dwellings, the balance between site and need is struck precariously. Works by Carla Guagliardi, Martha Niklaus, and Annare Smith incorporate this aspect of the modern city, expelled from the rigours of town planning, into the way that it is imagined and represented.
The modern metropolis sometimes seems to be all image, overwhelmed as it is by self-representation. Works by Siron Franco, Antonio Henrique Amaral and Milton Machado attempt to humanise that image, to understand how city-dwellers live in an environment characterised by constant demand: for progress, speed and self-improvement.
Architecture is not limited in this exhibition to building, but carries meaning as all of the various structures that hold a nation in place.
Unbalanced as the architectures of the city are, people endure living with and within them. These works display an understanding of how artists in particular have negotiated, observed and attempted to locate the city's dual existence as image and as site; as a place known both by global and local representation, and according to the demands of human and other natures.
Valerie Fraser, Chair of ESCALA
Image: Annarê Smith, VI, 1994